lloyd Taco, the popular Buffalo food-truck brand, was looking for an innovative designer for their first brick-and-mortar location, lloyd Taco Factory. They wanted the quick-serve restaurant and bar to boast a never-before-seen concept that married the street's lively community with lloyd's signature fun. The concept was "Willy Wonka meets psychedelic taco factory." When Boxcraft signed onto the project, lloyd owners Chris and Pete had already started demo and had worked with an architect who was no longer attached. Construction had already begun, and designs were being developed as the build-out continued, forcing the entire team to work creatively and collaboratively. Boxcraft led the charge as designer and project manager, overseeing all construction site activities.
The restaurant's factory concept took shape in lots of decorative and functional details, such as exposed pipes (some of which double as glass bottle returns), exposed brick walls, graffiti evoking street food culture, custom concrete fixtures, and much more. The space is designed both functionally and decoratively to evoke the truck's communal experience, from waiting in line to order, to eating at shared tables; parts of the actual truck were also integrated into the structure. These details ensure a smooth transition for the brand's loyal customers already familiar with the lloyd food truck experience, while also employing smart flow and functionality for an indoor retail space.
Boxcraft once again called on the community of local designers and vendors to give the space a community touch, including concrete by Solid716, tables and back bar by Wrafterbuilt, lighting by Emerson James, vinyl graphics by EKl, and photography by Roman Polyachenko.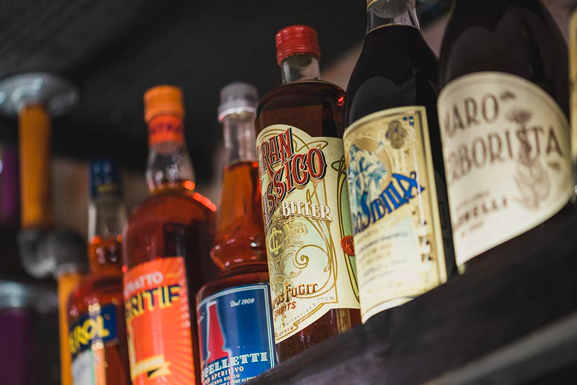 The lloyd Taco Factory Dos brings a fresh, new face to the historic Village of Williamsville food scene. It is bright, fun, surprising and incredibly functional. Boxcraft's designs helped elevate the traditional quick-service format while also giving loyal lloyd fans plenty of details to discover upon every visit.
"Candice is top notch. She's super organized, prompt, professional, and has a unique way of taking ideas or images that you have stuck in your head and making them into tangible things. She did an amazing job with the lloyd Taco Factory."
–Chris Dorsaneo, CFA lloyd Products, Inc., founder